Renting the cabin
Lucky Tree Cabin rental is managed by Vacasa, so you can relax knowing that all the rental details will be handled by a dedicated, professional team.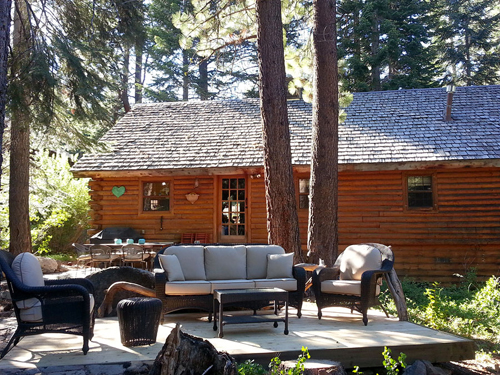 Cabin Features
The Neighborhood
The cabin has everything you will need for your stay including all bedding, towels, dishes, washer, dryer and soaps! Watch movies, read, stroll amoung the pines and enjoy the feeling of getting away from the hustle and bustle of life. The cabin is complete with:
Three bedrooms
Two full baths with shower/tub combination
Central heating
Glass-front wood-burning stove with stone hearth
Fully stocked gourmet kitchen with granite counters
Stainless steel appliances
High speed wireless DSL
Washer and dryer with laundry supplies
Cable TV and HDTV
An excellent cabin library of books, games & puzzles
Back terrace and yard overlooks a lovely, open green belt
Outdoor living room
Telephone, cable TV and DVD player in the master bedroom
Kurig coffeemaker and microwave
All dishes, flatware, bake-ware and cookware provided
Plenty of linens, towels, pillows provided
Down comforters on all beds, plus blankets
Leather sofa and recliner
Spare Winter gear, coats, hats, gloves available
A great selection of picnic gear, coolers, beach towels, hats
Located in the private community of Tahoe Donner
More like a Bed & Breakfast than a Vacation Rental
There are hundreds of moveies for your enjoyment! This is only a partial list of DVDs
the selection ranges from action adventure, comedy, family, romance, drama and more:
A Knight's Tale
Air Force One
Alexander
Analyze That
Anger Management
A Series of Unfortunate Events
Austin Powers
The Spy Who Shagged Me
Aviator
Brothers Grimm
Catch Me If You Can
Cheaper By The Dozen
The Chronicles Of Narnia
Collateral
Corpse Bride
To End All Wars
Evan Almighty
Frida
Full Metal Jacket
Galaxy Quest
Gattaca
Harry Potter And The Sorcerer's Stone
Hercules
The Interpreter
iRobot
The Italian Job
Kingdom of Heaven
The Last Holiday
The Last Samurai
Life Of Brian
Lord Of The Rings
Lord of War
Major Payne
The Man
Monster Ball
Mr. & Mrs. Smith
Must Love Dogs
The Naked Gun
National Security
October Sky
The Phantom Of The Opera
Pirates Of The Caribbean
Dead Man's Chest
Pirates Of The Caribbean
Curse of The Black Pearl
The Red Skelton Show
Robots
Sahara
Scary Movie 3
Scary Movie 4
Shanghai Noon
Simone
Sky Captain And The World Of Tomorrow
Slipstream
Spaceballs
Stargate
Stargate Atlantis
Star Wars III
Starsky & Hutch
Stealth
Sylvia
The Terminal
Troy
War of the Worlds
The Man
The Weather Man

There are lots of activities and amenities right in the neighborhood. The Club House is within easy walking distance with a pizza, pool, foosball, playground, tennis courts, ping pong and lots more. The Club House is where you'll find Member Services, ammenitiy brochures, answers to questions, send or recieve a fax or a paperback book to borrow. They even have a current list of local babysitters.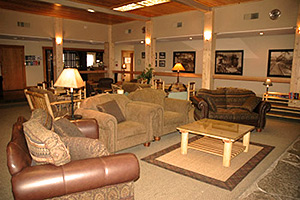 The elegant, lodge-style Club House also has a huge rock fireplace, lots of sofas and big, comfy leather chairs, wireless Internet, books, games and puzzles. You can even bring a drink from the small, informal bar housed in the building and relax over a board game. The bar is actually in the Pizza On The Hill restaurant, a great choice for an easy dinner with kids or large groups.
Outdoor movies, outdoor bingo and concerts are all part of the Club House activities. During the day the Rec Hut has games, balls and other fun stuff to borrow.
Then of course, there is the Golf Course, Recreation Center, and Gym just up the hill. This where to go if you would like to swim in the winter, take a steam bath, get a massage, work out in the gym, take a yoga class or just sip a glass of wine while watching the sunset. Oh, and a deli, too.
No need to drive into town for a quart of milk, cup of coffee, great dinner or a restorative massage. All within walking distance and all excellent quality.