Your little log cabin in the woods: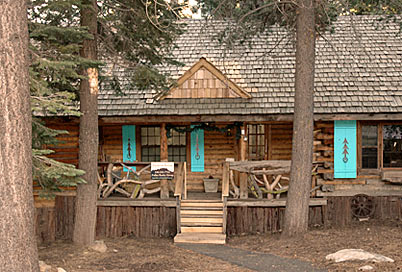 Charming, cozy, and truly unique,
Lucky Tree Cabin is a truly unusual vacation rental. This romantic log cabin has the charm of a Bed & Breakfast, but with the privacy of a vacation rental. Take one step inside and you will see why guest say the cabin feels like the home of a good frient; Pictures, paintings, Tahoe mementos, and antiques all come together in a timeless fashion. The interior is everything you would expect a Log Cabin to be - a welcoming retreat.
Well behaved dogs are welcome at Lucky Tree Cabin, and with miles of walking trails, you and your pet are sure to have a great vacation! Lake Tahoe is home to an abundace of friendly dogs and you will find them everywhere, from stores, to trails and beaches. You don't have to leave your do at home, your dog deserves a vacation too!*
Guests requently comment that the pictures just don't do the cabin justice because they cannot convey the pine scented air, the thrill of discovering some facinating Tahoe memento, book or the glimpse of wildlife off the back deck. Visitors often spend hours exploring the many cabin treasures of a long ago era.
While the furnishings are classic, rustic Tahoe, rest assured the cabin has all the modern essencials we love like ultra high speed wireless Internet, cable TV and LCD HDTV. The cabin also has central heating, microwave, gas BBQ, stainless steel appliances, granite countertops, washer/dryer and lots more.
If you forget a hat, beach towels, jacket, gloves, snow pants, snow boots, etc, don't dispair, the front closet is loaded with spare gear for you and your family to borrow! Please remember to put all borrowed items back clean and neat!
Located in exclusive Tahoe Donner, you can golf, ski, cross-country ski, go horseback riding, swim, hike, play tennis, or work out in the gym and then enjoy a fantastic dinner at The Lodge - all within a few blocks of the cabin!
Whether you are looking for a romantic getaway vacation, a Lake Tahoe Honeymoon, or just want your family to experience the thrill of staying in a real log cabin, Lucky Tree Cabin is sure to please.
Three bedrooms with two baths
Outdoor living room with sofa and club chairs
Outdoor dining area with gas BBQ
Full Access to all Tahoe Donner amenities
Close to North Lake Tahoe ski resorts
Year-round access
Everything provided: linens, pillows, dinnerware, cookware, etc
Lots of games, books, etc
Spare Summer/Winter gear to borrow
Gourmet, stainless steel kitchen even has cookbooks
Kurig coffeemaker with assorted pods
High Speed Wireless Internet, cable TV, HDTV
Well behaved dogs are welcome!
*Please note: Lucky Tree Cabin does not have a fenced yard. Well behaved dogs may sleep indoors and please obey the leash laws when outdoors.